Eighteenth birthday party marquee
The occasion: was an 18th birthday party.
The venue: was a largeish irregular garden on two levels with a wall and steps separating the levels
The challenge:: To create a lively party space incorporating dining and dancing for the teenagers and a smaller space for grown ups that was separate but still part of the main set up.
The solution: A 9m (30') x 21m (70') frame marquee that spanned the steps and levels of the garden. Eating took place on the upper level, dancing on the lower. An entrance porch marquee added interest. A second 4m (14') x 6m (20') frame marquee was set at right angles to the party tent with clear panoramic windows all along the front for a full view of the action.
Click any image to view a slideshow of large photos
Plan of the marquees for the party, created with our planner
Last minute adjustments to the table decoration
A small marquee served as the entrance porch to the main party tent. The bar was also situated here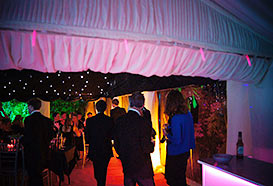 Looking into the party tent from the entrance porch
Dining in the main marquee. The green glow of the illuminated garden shows through clear panoramic windows on the right
Starcloth lining and colour wash lighting created a festive atmosphere
Eating in the separate grown ups marquee
The main marquee spanned two levels of the garden and a wall and steps. Eating took place on the upper level, dancing on the lower
Spangly decoration in amongst the flowers on the dividing wall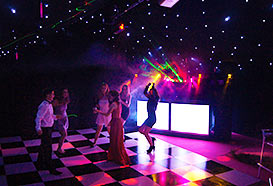 A black and white dance floor, laser lighting and moving shape lights set the mood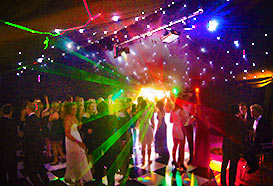 Dancing in full flow
The event also featured a vividly lit entrance passage, inspired by an entrance walkway created for a previous event
Contact us if you would like to find out more about celebrating a wedding in a marquee.