Marquee with Leafy Ceiling Decoration
The occasion was Olivia and Bryn's gorgeous summer wedding reception.
The venue was Busbridge Lakes, a very beautiful marquee venue near Godalming in Surrey.
Olivia's thinking: "Even though we got married in July, you can never trust the British weather so we decided to get a marquee.
From the start, County Marquees were very helpful providing us with a site visit and even a car-lift to the station afterwards! We wanted to have as much of the beautiful venue visible from inside the marquee as possible and we were delighted with our decision to have a clear gable at one end. They kindly communicated and worked with our florist to put up wires for our marquee foliage and provided a Chinese hat so our guests could be sheltered from any potential rain if they went outside.
At no point were we pushed or pressured into buying extras or spending more; in fact County Marquees were refreshingly discouraging of spending more than we needed to (which makes a pleasant change from the world of wedding retailers!).
The end result was better than we could have even imagined. They gave us an absolutely breathtaking and yet relaxed setting in which to dine, boogie and celebrate all the love!"
Photos courtesy of Fiona Kelly Photography
Click any image to view a slideshow of large photos
Fresh, simple and pretty, with open sides and leaves attached to wires for ceiling decoration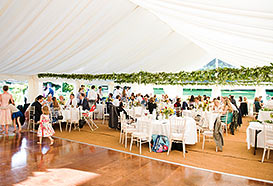 Tent in action. The space is divided between dining and dancing areas
Beautiful by day...
...and by night
Olivia and Bryn opening the dancing, with eyes only for each other!
A Chinese hat tent in case of rain. And a very athletic girl, caught just before she turned upside down!
Hand-painted personalised table names – Julie Andrews thrown in for free
Pretty, informal flowers
Toasting
Contact us if you would like to find out more about celebrating a wedding in a marquee.