Wedding marquee divided into sections
The occasion was a spring wedding reception for 160 near Westerham, Kent
The venue was a fair sized garden with plenty of room for the large clearspan marquee that was to serve for the wedding reception.
The challenge: the client wanted to have three separate areas for the reception: a medium sized area to receive guests and serve drinks; the largest section for dining; and a smaller section for drinking and dancing later.
County Marquees solution: sectioning the marquee — a 12m x 33m (40' by 110') frame marquee divided into three sections by reveal screens hanging down to split the marquee into three and hide unusued areas. They can be parted in the middle, and also pulled right up from above like an old fashioned theatre curtain.
Click any image to view a slideshow of large photos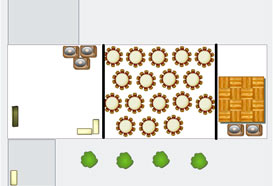 The plan drawn up on our planner shows how the marquee will be divided by two reveal screens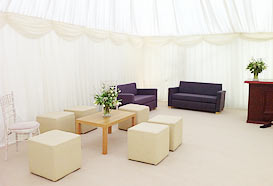 The reception area, shown on the left on the plan, with sofas, soft cube seating and a bar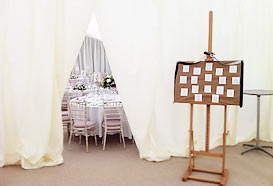 Peeping from the reception area though the opening in the reveal into the main dining section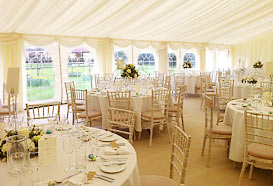 The main dining section of the marquee
Looking back the other way, from the dining area through the reveal into the reception area
The third dancing section of the marquee, shown on the right in the plan above: wooden dance floor, small stage for music and reveal screen on the right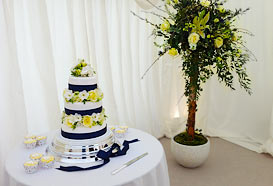 Wedding cake on a cake table and a large floral arrangment with matching flowers and colours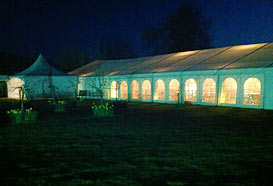 Exterior of the marquee looking inviting at night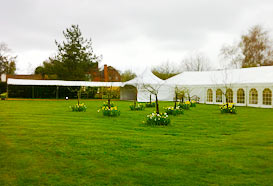 Exterior of the marquee, showing the main marquee, a chinese hat marquee serving as an entrance porch, and some covered walkway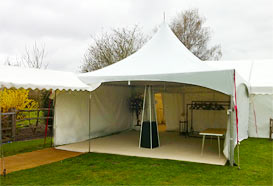 Looking into the entrance marquee, with a heater and a coat rack
Table furnishings: a 6' round table with limewashed chiavari chairs
Close up of the opening in the reveal
Contact us if you would like to find out more about celebrating a wedding in a marquee.