Vintage marquee party
The occasion: was a fiftieth birthday party.
The venue: a small urban garden in London with a quarter of the space taken up by wooden decking.
The challenge: to create a stylish party in a small and quite awkward space.
The solution: A 4m x 6m (14' x 30') small open sided frame marquee which spanned garden decking and attached to the house, creating a long space for the party. For style, a turn of the ninteenth and twentieth centuries theme was chosen. This very particular vintage syle was the idea of event stylist Gina Geoghegan:
"The client really liked Rennie Mackintosh and that style of design, so when I designed the bunting I took his designs, as well as William Morris, and so I also thought it made sense to bring those designs and that era to life through moments of still life as well — thus the flowers arrangements on the tables and furniture."
(Charles Rennie Mackintosh was a Scottish architect and designer involved in William Morris's Arts and Crafts movement. He was also a proponent of the Art Nouveau style).
Click any image to view a slideshow of large photos
An open sided marquee filled with vintage furniture and accessories from the turn of the C19th/C20th and a lovely subtle colour scheme
Attached to the house and spanning garden decking, the marquee creates a continuous party space from the kitchen all the way to the end of the garden
Early twentieth century vintage furniture sets the mood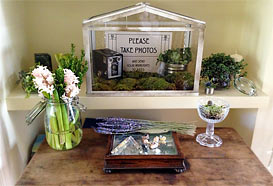 An ancient polaroid camera looked the part and allowed guests to take photos for posterity. The PLEASE TAKE PHOTOS sign is in Mackintosh Art Noveau style
A table of found vintage items and traditional English flowers: Roses, Peonies, Lavender and Rosemary
In the corner, you can just see the date – 1870 – on a glass bottle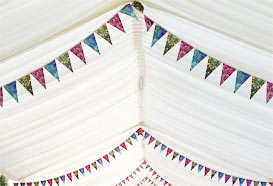 Custom made bunting using William Morris and Renee Mackingtosh designs. It cost £250 for 70 metres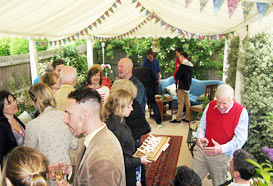 And finally, the vintage marquee party in action!
Areas covered
London
Sussex
Surrey
Oxfordshire
Kent
Hampshire
Essex
Hertfordshire
Berkshire
Bedfordshire
Buckinghamshire