Vintage wedding marquee
The occasion was a summer wedding reception.
The challenge was to create a workable party space in a remote field with wheelchair access over uneven ground. The client also wanted to decorate the marquee with branches across the marquee roof.
The solution: a 12m (40') x 24m (80') frame marquee with a 12m (40') x 3m (10') extension that served as a catering tent. The set up included a generator and portable toilets to provide all facilities. We also built a ramp over a ditch to enable wheelchair access. Wires strung over the roof created a structure to hang the decorative branches and leaves.
Click any image to view a slideshow of large photos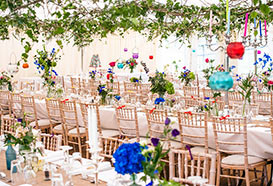 The popular vintage style: chiavari chairs, mismatched candles in gothic style candlesticks...
View in photo gallery »
...branches attached to wires and swathed with leaves, colourful natural flowers, lined up trestle tables
Branches before the leaves were attached, also shows burlap table runners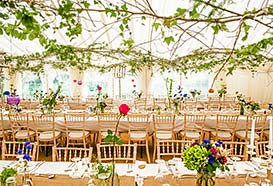 The overall effect: bright, friendly and colourful
Detail shot, showing fairy lights attached to branches. In the background, the dancefloor on the right, and bar on the left
Table close up, showing pretty mismatched flowers and dangling glass baubles
The marquee was in a field, portable loos and generator visible to the right
Vintage wedding marquee overview
Contact us if you would like to find out more about vintage wedding marquees.