For assistance, a brochure or a free site visit:

Or do you already know exactly what you want?

Get social

Marquee decoration
It is best to think of marquee decoration as but part of the overall look for an event.
Marquees are flexible enough to carry classic styles, romantic styles, functional, funky, vintage... as well as many themed looks.
You need to decide on a style or theme and then pick table centrepieces, flowers and other items to suit. Not simple, but there are a loads of resources on the web to help.
For inspiration, try:
On this page, we highlight a few items particular to marquees that, coupled with lighting and furniture, can help create the atmosphere you want.
Linings:
Marquees can be lined, a natural accompaniment to formal or traditionally-styled events. Please see this frequently asked question for a photo showing the difference between lined and unlined marquees.
Marquee lining with decor
County Marquees standard linings are pleated and ivory-coloured. They are an ideal backdrop for most styles. They can be set off with swags, roof swags, bunting (see below), as well as with lighting effects, theming accessories and bespoke printed linings (the ever popular butterfly, for example).
Bunting:
Very fashionable nowadays — bunting or flags in all sorts of fabrics can be strung across or around the roof of a tent (as in the two photos alongside), usually as an element of a vintage style marquee. Bunting can also radiate from the high centre of a traditional style marquee.
Bunting can be custom-made with your choice of fabric, or bought off the shelf. If you are looking for decoration ideas, we maintain a Pinterest board to show some different bunting styles and also some howtos for DIY bunting.
This case study is an elegant example of the shabby chic with custom-made bunting look. This vintage party marquee features unusual bunting hand made from William Morris and Charles Renee Mackintosh designs.
Black-out linings:
Marquees can also be completely or partially blacked out, typically in combination with a starlight ceiling.
The effect is dramatic and fun — ideal for an evening party with dancing.
Coloured lighting can enhance the effect by spreading washes of colour across the black.
Walls, windows and poles:
Other marquee specific items to consider include:
Opening up the walls in summer: drawing back the walls allows the landscape around to be part of your decor while still enjoying the protection of a tent. See this question or this photo for more examples.
Windows: a similar outdoors effect can be achieved on colder days with lots of windows.

The upper of the two window photos alongside shows Georgian style windows. The lower windows photo shows Panoramic windows which make a whole bay clear so you can enjoy a view unimpeded.

See this photo for another example of lots of Georgian windows. Or this one of a funky party marquee for an unusual use of panoramic windows on a marquee attached to a house.
Poles: for traditional tents or on open sides of frame marquees, poles provide another opportunity to make a decorative statement. They can be draped with material, or garlanded with flowers, ribbons or what you will.

The photo alongside shows an unobtrusive pole treatment typical of traditional style marquees where poles run along the centre of the marquee and too loud a decorative style might overwhelm.

See this photo for another floral example of poles dressed to impress; or this one for simple, pretty twirled leaves in a traditional style marquee.
Roofs:
Another fabric idea is to drape overlays across the marquee roof, or hang drops down the wall. Overlays can be single or multiple for a striped effect.
The photo alongside shows multiple fuscia overlays combined with a black-out roof lining. Overlays can also follow down the walls of a marquee with fabric drops.
Marquee roofs also lend themselves to hanging things from. This can be an easy way to put your unique decorative stamp on a marquee. The ubiquitous paper lantern is one example, but there are many other options, for example:
The lower photo shows a dramatic example, with large Venetian Carnevale masks dangling from the frame of a frame marquee.
Swags:
Swags are available in a wide range of colours to suit the overall look of your event.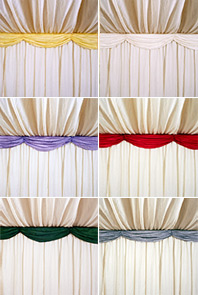 The photo alongside shows a selection. Ivory for a pretty wedding, red to warm up a winter party, grey for an elegant corporate do and so on.
We can match pelmet colours as well if required.
Other fabric options include dangling fabric ribbons from the marquee roof for a more unusual effect — massed together, dangling ribbons can look very striking.
Chill out areas:
Events can be exhausting. And the experience of sharing a table with the same small group of people for hours can feel a little intense.
As a way of helping guests relax for a while, chill out areas have become popular features of long weddings and parties.
Chill out areas can be in a separate small marquee (chinese hat marquees look fun and are the ideal size); or they can be in a more or less screened-off section of the main marquee.
Sofas, soft cube seating and low tables are common furnishings. And different or striking decor is sometimes applied to chill out areas just for fun.
Flowers, balloons, theming, corporate branding: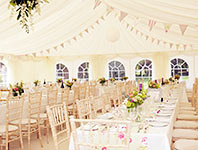 Where to start? For further marquee decoration ideas, you can look at:
the marquee decoration section of our photo gallery
or some real life marquee case studies
or search for marquee decoration or tent decoration on the internet and see what takes your fancy and fits your budget, venue and season.
Here are a few examples from around the web that we found interesting to set your creative juices flowing:
For an example of corporate branding, please see this case study.
Although County Marquees does not stock theme items, flowers etc, we are happy to take on the task of organizing supply, and then integrating them with all the other elements of marquee design to create the look and feel you require.
Or please contact us for advice on your particular requirements.