Marquee furniture
Marquee furniture and equipment available from County Marquees includes:

In the photo, left to right from top: trestle tables with white limewashed chiavari chairs, trestle table with white banqueting chairs, poseur tables, wooden bar, soft cube seating & low tables, limewashed chiavari chairs, round table with bistro chairs with chair covers, sofas with low tables, light-up bar, panoramic windows
Round tables - 3', 4', 5', 5'6", 6'
Trestle table - 6' x 2'3", 6' x 3'
Low tables
Poseur tables, café tables
Banqueting chairs in gilt or other colours
Plastic bistro chairs
Wooden folding chairs
Limewashed chiavari chairs in a range of colours
Dance floors - wooden, parquet, black & white and white starlight
Soft cube seating
Sofas
Bar units in different styles
Stage units
Coat rails
Picket fencing
Georgian windows
Clear panoramic window panels
Hard doors
Heaters
Generators
Portable toilets
For a more extensive list, including pricing, please see our price lists for furniture and equipment.
Other furniture and equipment can easily be sourced if required.
To see more photo examples of County Marquees' furniture, see this marquee furniture album on Pinterest.
NEW Boho furniture: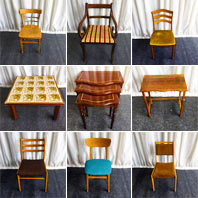 Mismatched chairs and tables for an informal vintage look are a recent addition to our furniture range.
The photo alongside shows a selection of the boho mismatched furniture we stock, but we have many more!
Dance floors: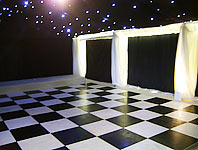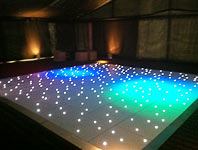 Wooden dance floors - interlocking oak plywood. Standard dance floors, cover large areas easily. See this photo or this photo or this photo for examples.
Parquet dance floors - the classic look. See this photo for a slightly covered up example.
Black and white dance floors - shown to the right. Fashionable and striking, ideal when an event calls for extra oomph, particularly with lighting effects. See this photo for a stunning example. These dance floors also work well in retro themed marquees.
White starlight dance floors - shown in the lower photo. Very popular recently. They look both pretty and exciting so are an ideal dance floor for a wedding reception.
Flooring: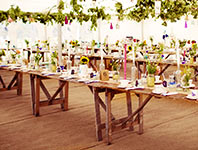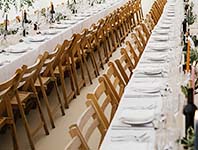 Coconut matting: This simple, stylish floor covering (illustrated alongside) is suitable for informal summer events.
Hard floor: Made out of interlocking plywood panels, hard flooring is often covered by carpet. It is perfect for formal events, and for winter parties, when protection against waterlogged ground may be necessary.
Carpet: contract carpet in a wide range of colours is typically used to cover hard floors, but can overlay matting as well for a more formal style. The lower photo shows blue carpet under the tables to the rear (and a wooden dance floor in the foreground). This photo of an Asian wedding shows popular champagne coloured carpet.
Portable toilets:
Our luxury portable toilets are spacious and well equipped, providing elegant facilities for all kinds of events. Interiors are tastefully decorated, with cream walls and floors, inset lighting, and wood and chrome fittings.
Furniture planning:
County Marquees is happy to assist with planning the style and the layout of furniture. Our marquee planner also allows you to see how your layout ideas work in the available space.
For many events, our standard furniture range is sufficient to create the right atmosphere — banqueting chairs with round tables for formal functions, limewashed chiavari or bistro chairs with long trestle tables for more casual parties and so on.
But County Marquees is also happy to source other furniture when necessary. Please contact us with any special requirements.
And please don't hesitate to contact us for more advice.