Large event marquee
Before:
It all began early one bleak February morning on a deserted rugby pitch with the rumble of big engines coming closer...
Work begins, as marquee parts are unloaded off the lorry.
The aluminum poles and struts are laid out in position on the pitch.
Laying out hard floor inside one of the three marquees.
After:
External view of the three finished marquees. One is a catering tent, one for eating, and the third for serving food and dancing.
Inside the dancing marquee, with a night sky and multi-coloured swag. The swag and carpet colours matched the company brand.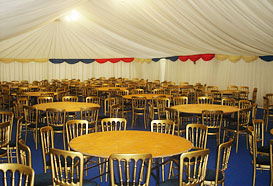 Inside the dining marquee, with tables and chairs for 300. Multi-coloured swag matches corporate branding.
Serving a hog roast in the dancing marquee early on with a night sky in the background.
View larger
---
The occasion: was an annual corporate event in Thame, Oxfordshire, soon after Christmas.
The challenge: was to accommodate wining, dining and some serious speechifying with a loud dancing area and large-scale catering requirements. And to withstand the winter weather.
County Marquees' solution: three large marquees: one for catering, one for dining, and one for serving food and later on, for dancing, each one firmly anchored against strong winter winds. The floor of each event marquee was protected from possible waterlogging with hard floors underneath carpet.
Please contact us if you would like to find out about event marquees.