County Marquees in Henley
For over 25 years, County Marquee has supplied professional marquees to Henley-on-Thames and the surrounding Oxfordshire area.
Flowery interior for a winter party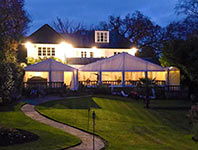 Frame marquee attached to a house
It is a great English tradition to celebrate in the garden. Only problem is the English weather. Solution - a beautiful marquee. We have a wide range of marquee types and styles suited to gardens of all sizes and shapes. The flexible framed marquees, the traditional style marquees with guy ropes and centre poles, the informal New World stretch tents and the Eastern influenced Chinese Hats. We also have a range of furniture and diverse ancillary equipment for you to make the venue the way you want it. Our Oxfordshire representative will help you through the selection process and advise you on all aspects of marquee hire and generally ensure that getting the right marquee is as painless as possible.
We take pride in providing a quality, efficient service. Our customer testimonials bear witness to the high standards we always aim to match. Check out our photo gallery to see our recent work or get inspiration for your next event.
Information on pricing is displayed on our pricing page, alternatively you can get a quick online quote.
Please contact us if you would like to find out more.
Glamorous traditional marquee at night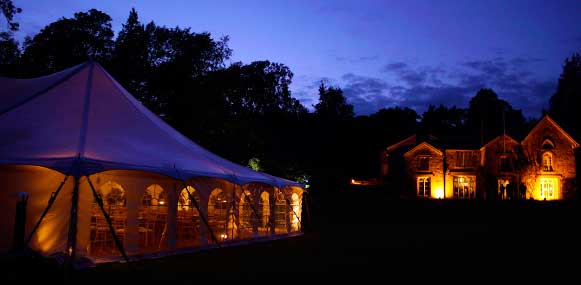 Illuminated traditional style marquee in a large Oxfordshire garden.
Local praise
The marquee looked wonderful!
December 2012
by
Groom
Abingdon
Oxfordshire
business
All went very well thank you. The marquee looked wonderful! Thanks to Martin and his hard working team; they were very professional but also very helpful (even though it was dark and getting late on the evening of set-up) with arranging the marquee and hanging our lanterns just the way we had envisaged.
Local resources
Marquee venues in Oxfordshire
We maintain a list of marquee venues in Oxfordshire for customers' convenience. These are not recommendations, simply for your information.
What next?
Have a look
Marquee gallery
Marquees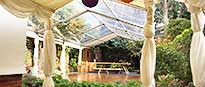 Which type suits you?
Get in touch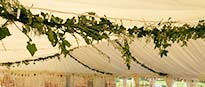 Contact us
We cover the Henley-on-Thames area