Bar Mitzvah Marquees
Planning bar mitzvahs and bat mitzvahs presents special challenges.
Your approach will depend on the sort event you are planning — only for children or for a mixed age-group.
If only children are invited, then marquee aesthetics are less of a worry — though children do rise to the occasion of a well-dressed event. Bold or glitzy effects work better with youngsters than subtle decoration.
If a mixed age range is invited, very formal decoration is best avoided, as is an overly flowery look for a bar mitzvah.
The advantages of marquees for bar and bat mitzvahs
As for all types of event, hiring a marquee offers the advantage of a space that can be exactly tailored to the bar mitzvah or bat mitzvah that you desire.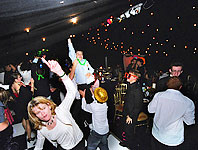 Our marquees are modular, and can be large or small, L-shaped, square or rectangular, and doors and windows can be positioned anywhere. This means marquees can fit into awkward gardens and allow friends and family to be warmly welcomed into your home for this very personal event.
Adapting a marquee to an awkward garden is not a cheap option, but it can produce spectacular results. See this case study for an example at a North London bar mitzvah.
Decoration and theming
Our marquees are white and we provide ivory-coloured or black out linings. This is an ideal canvas for any decorative style. In addition, our aluminium framed marquees make it very easy to attach items to the walls or ceilings.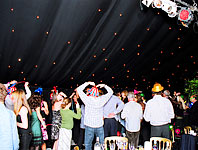 Decorative options include:
traditional — swags, flowers, balloons, banners etc
themed backdrops eg sports events, beaches etc
Combined with lighting effects, a vast range of styles are possible. We are happy to implement your chosen look, or to suggest ideas.
Suggestions for extras
With so many young guests, extras to keep them entertained and keep the party going may be advisable. These are not a bad idea even for a mixed age range — excited children can help adults let their hair down too!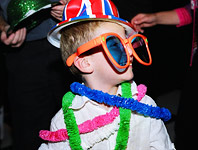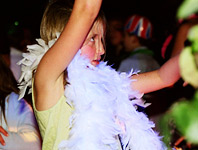 Here are some ideas:
Chocolate Fountains
Candyfloss, popcorn machines
Inexpensive: Dancing extras: eg selection of party novelties for dancing (as in the photo).
Inexpensive: Dancing competitions
Entertainers: caricature artist, magicians etc
Personalised T-shirt printing
Lighting effects
Lighting can produce some of the most exciting and creative marquee effects: subtle washes of colour, night skies, festoon lighting, spotlights for tables, or focal points. Clever use of lighting can really create a fantastic atmosphere for a party.
County Marquees has a good range of lighting options — see marquee lighting. Or for examples of some of the effects that can be achieved, please look at our marquee lighting photos.
More than marquees
We will happily provide just the marquee hire for an event. But we can organize much more if you wish.
We can manage catering, entertainment, decoration/theming etc - all to your specifications.
This can be a less stressful way to hold a bar or bat mitzvah.
Please contact us if you would like to find out more about our bat mitzvah and bar mitzvah marquees.