Find inspiration for your type of event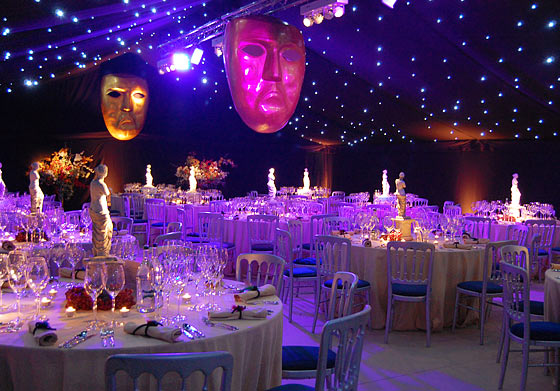 ▶
Venice themed marquee
Stunning marquee for a wedding with sophisticated lighting, Venetian carnevale masks hanging from the roof and Venus de Milo table centrepieces.
The atmospheric lighting was achieved with energy-efficient purple LEDs on top of standard uplighters and starcloth lining. The purple reflected brilliantly off the tablecloths and the light coloured carpet. Spot lights on the table centrepieces added to the effect.
For the full story of this Venice themed marquee – with details and photos of the bridges, canal and gondola (yes you read right!), see this case study.
For simpler and easier to achieve marquee theme ideas, see this sports themed marquee.
If you have an idea for a themed marquee party, we can arrange decoration to suit.
Find out more about marquee decoration.
Contact us to find out more about a marquee like this.