Venice Themed
To further build up suspense, the walkway was unusually long and intensely red, with a dramatic change of colour visible at the end
Arriving at the marquee, a fabric reveal frames a glimpse of bridge, glistening canal complete with gondola - and the party beyond
Passing over the bridge, the drinks reception area with huge traditional Venetian Colombina masks dangling from the roof and spectacular lighting by Storm Productions
View Storm PDF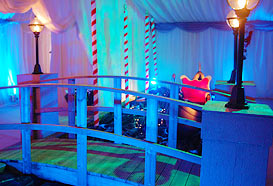 Direct view of the Venetian styled bridge over the canal with the gondola beyond. The bridges were built for the occasion. Layering bubble wrap with fairy lights, black plastic and dark material created the water effect, enhanced by water effect lighting.
A bar decorated with images of Carnevale masks inside the reception marquee. The bar design was highlighted with spotlights.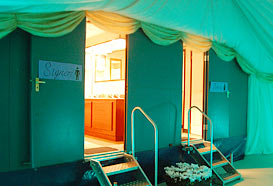 Loos for Signori and Donne hidden off to the side of the reception marquee, draped and lit to blend in
Another bridge linked the two large marquees. Tables shown on the seating plan were named after parts of Venice, for example Grand Canal, Rialto and Harry's Bar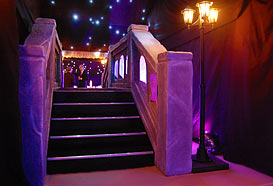 The second bridge – a dramatic stone effect affair – in its own marquee with a tempting view of the enticingly lit dining area on the other side. This bridge wasn't just for effect. It covered fencing between the reception and dining marquees.
Just gorgeous – classic night time marquee with huge Carnevale masks and Venus de Milo statues for table centrepieces. Energy efficient purple LED lighting on top of standard uplighters and starcloth lining created the atmospheric lighting.
View in photo gallery
More detail of the tables – and for the well informed and observant: does it really matter if Venus de Milo is Greek and is kept in the Louvre in Paris? She looks the part...
---
The occasion was a wedding party.
The challenge was to advise and assist the client in creating a fabulous and imaginative interior themed to Venice, accomodating reveals and bridges and even a canal with a gondola! In addition, the event space included a fenced off tennis court - the marquees would need to cover that up.
No event planner was used, so overcoming the challenges and creating a stunning interior had to come from a collaboration between a capable client and County Marquees' staff.
The solution: The layout involved several marquees with hard floor throughout and lots of starlight lining : a 9m x 21m (30' x 70') tent for a drinks reception and loos; a 3m x 6m (10' x 20') marquee to accomodate one of the two Venetian style bridges; a 12m x 24m (40' x 80') marquee for a sit down meal with an adjoining catering tent; and last but not least 55' of vibrantly illuminated walkway leading to the first big marquee to build up suspense and excitement.
The bridge in the small tent went up and down over the tennis court fencing and hid it completely.
The props for this event came from www.amazingpartythemes.com (larger items) and www.eventprophire.com (smaller items).
Contact us if you would like to find out more about themed marquee hire.