English Garden Marquee
"I handmade the bunting, table runners and soft furnishings in material I found and loved which inspired the colours of the wedding..."
"... and the stationary e.g. sage polka dot, mocha and raspberry"
View in photo gallery
The stunning table runners with sage polka dot background and raspberry-coloured roses
"On the look and feel of the marquee, we wanted to ensure the marquee complemented the beautiful grounds of the venue on the croquet lawn of the country manor house..."
"...so this meant shabby-chic accessories, vintage books and antique croquet sets. The picture frames were a decorative alternative to the usual table plan and names."
More shabby chic for the wedding cake, with Mr. and Mrs. Mouse
The marquee on the croquet lawn of the country manor house
The dancing area, blacked out with starlight ceiling, was hidden early on.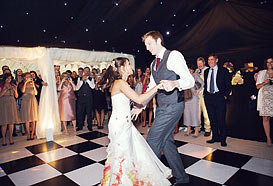 Bride and groom make a splash with their first dance in the hidden dance area.
View in photo gallery
---
The occasion was a spring wedding reception.
The venue was a croquet lawn in the grounds of a manor house, plenty of room though the logistics were a little awkward.
The bride's thinking: "As the Wedding was in May, it was really important that the weather did not interfere with the fun of the day. So we designed the marquee in a way that ensured everything could happen inside should the weather not co-operate! This included having separate areas for eating, dancing and relaxing and also having the toilets covered and integral to the marquee so people would not have to go outside.
We wanted to create a relaxed, informal atmosphere with lots of entertainment for the guests - including music played throughout the day, candy bar with cupcakes, photo frame guest book and fancy dress accessories."
All the good photos courtesy of Sarah Gawler
Contact us if you would like to find out more about celebrating a wedding in a marquee.