Indonesian Wedding
The steps down from the patio - all inside the marquee - were flanked by tiered Indonesian ceremonial parasols
The marquee was attached to French doors and windows. Food stations featured traditional Indonesian batik fabric
Food stations were placed in some of the openings to the second small marquee. The rosettes featured traditional Indonesian patterns in regal red and gold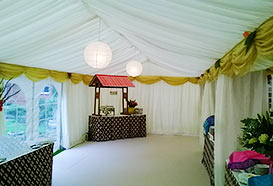 The second smaller marquee - with globe lanterns - was used at the wedding for serving food
The food stations featured Balinese style roofs with traditional carvings
Glitzy ceremonial unbrella
---
The occasion was an Eastern style wedding with exotic decorative details. But this was a long term marquee hire. The marquee was in place for two months and was repurposed later - with a change of swag colour and the addition of a small stage - for a speech by the vice-president of Indonesia and for meetings of the Internation Maritime Organization.
The challenge: To accomodate quite large numbers in a space that could not be fully utilised because a flagpole was in the way. The marquee also needed to span a patio, some steps and the lawn beyond.
The solution two frame structures attached in a squat L-shape, one 9m x 24m (30' x 80') and the other 4m x 12m (14' x 40') to avoid the flagpole but use all the rest of the space. The steps were accomodated by using shorter and then longer poles in the large marquee.
Please contact us if you would like to find out about wedding marquees or long term marquee hire