Travel Themed Wedding
The occasion was a summer wedding reception in West Sussex.
The challenge was not huge, to be honest. The venue was straightforward, and the bride had a clear idea of what she wanted, having seen a marquee previously that she wanted to replicate.
The solution: A 12m x 24m (40' x 80') traditional style marquee with windows all around for a nice bright feel, with coconut matting, fabric coloured poles and pink swags all around.
All photos courtesy of Mia Photography.
Click any image to view a slideshow of large photos
The swooping lines of a traditional style marquee
The wedding couple make their entrance, a very polite groom
Garlanded poles, chiavari chairs, tall candalabras and pretty pink swags create an unfussy elegant interior
View in photo gallery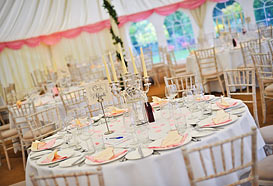 Table names were location-based, in this case Cook Islands. Pearls strung over the candelabras is a nice touch. Click to view larger to see the details
Map-based seating plan, carrying through the travel theme
More travel theming with airmail paper airplanes for place names, alongside thoughtful entertainment for kids
The marquee in action: father addresses his beautiful just-married daughter
Bride and groom open the dancing
The top table right at the heart of things on the dance floor. Later on, the table can be moved back to allow for dancing.
Simple natural flowers
It's a wedding so there must be hats, right?
Contact us if you would like to find out more about celebrating a wedding in a marquee.