Luxurious Wedding Marquee
A large luxury marquee reception. The mainly white and cream decor combined with a long wall of Georgian windows created a lovely airy, spacious feel
Colourful table centrepieces, on the top table here, were a perfect foil to the otherwise light marquee dressing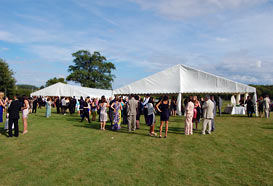 There were two marquees: the main wedding tent and a open sided chillout marquee for the opening drinks reception, and for escaping and smoking later
Elegant festival feel from colour changing exterior floodlights for the chillout marquee, festoon lights radiating from the main marquee entrance and more floodlights for the parking area
White dance floor (no starlights) with tables on either side. A lighting bar along most of the ridge of the marquee with a lighting truss over the dancefloor had pinspots shining onto each table, bar and cake, as well as special dancing effects (see next two photos)
Dancing in full flow under a cluster of mirror balls and coloured par cans. The par cans washed colour over the dancefloor. The lighting truss and rigging points were neatly covered in lining material matching the marquee roof.
Dramatic party atmosphere created by four moving head lights controlled by our lighting technician using a lighting desk, with haze to accentuate the beams of light
Three strings of festoon lighting drawing the eye to the main marquee entrance and the serious partying within!
Another view of the chillout/smoking area at night, this time in a vivid red...
...And now yellow. The furniture is pretty white metal
Fantastic large and colourful table dressing including Delphiniums, Sunflowers and Gypsophila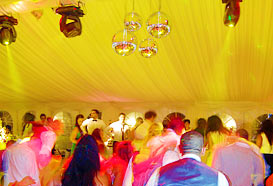 The lights above the dance floor moved, changed colour and projected shapes. The shapes went from subtle effects early to strobing effects later, all in sync with the the music
---
The occasion was a summer wedding reception.
The venue was nice flat rural venue in Hertfordshire, ideal for a marquee event.
The marquees: A 12m x 30m (40' x 100') frame marquee for the reception, an open sided chillout marquee with no walls and a catering tent (not shown) with power supplied by the venue.
The reception marquee featured popular champagne coloured carpet on a hard floor. Although it is possible to put carpet on top of cheaper matting if the surface underneath is smooth and well-drained, a more expensive hard floor underlay avoids problems with high heels.
The marquee set up also featured some pretty special lighting effects (see photos below) by Storm Productions View Storm PDF
Contact us if you would like to find out more about luxury marquee hire.