Funky Party Tent
Brightly coloured flags led the way to the festival style marquees.
The main marquee and one of the smaller marquees. Bollywood movies played from the screen on the far left.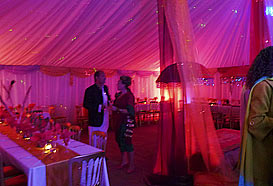 The main marquee with alternative marquee decoration: dangling sari fabric, Indian-style decorative umbrellas and peackock feather table centrepieces.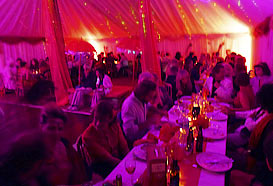 Long trestle tables lined three sides of the marquee, leaving the central space open.
Inside the drinks tent, decorated with Eastern fabrics.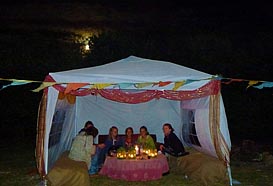 Small chillout tent with hay bale seating and lots of tea lights.
Keeping warm from the fire outside the marquees.
Colourful lighting and table runners improvised from sari fabric.
---
The occasion was a pretty funky night time party at garden art manufacturer David Harber near Didcot, Oxfordshire
The venue was a a fair sized field adjoining David Harber's workshop.
The challenge: the client wanted a festival style marquee — an informal, Eastern/hippy-themed event with relaxed and alternative marquee decoration, with different locations for eating, dancing, chilling and generally hanging out. And for guests of all ages.
County Marquees solution: a 12m x 9m (40' by 30') frame marquee with several smaller frame marquees to serve for chilling and quieter seating. Eastern fabrics and other items were used for the decoration, with colourful lighting to snaz things up.
If you are looking for party tent ideas, it is worth noting that this funky look was acheived inexpensively. Sari fabric, bought from Southall in London, dangled from the roof and was used as table runners. Other decorative items – also from Southall – included peacock feathers, tinselly wall hangings and lots of tea lights. Colourful lighting completed the look.
Contact us if you would like to find out more about a marquee party decorated in alternative style.